Training Program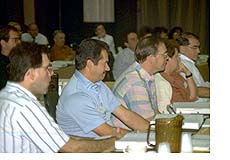 Training and continuing education are built into our program in many ways
A 10-day program conducted at Criterium Engineers headquarters is offered to all engineers.
Every other year, Criterium Engineers hosts a conference with featured speakers and seminars on engineering, marketing, and business management.
Additional programs, webinars, and seminars are held at various times on selected topics.
TRAINING PROGRAM:
One week in our Portland, ME headquarters followed by
one week at the franchise location.
Day One

Introductions/Overview
What it means to be a Criterium Engineer
Being in Business for Yourself
The Criterium Business Model
Managing Risk
Listening & Effective Communication

Day Six

Building a Business

Markets
Image Development

Day Two

Residential Products
Listening
Related Services and Products
Criterium Report System

Day Seven


Business Management
Job Managaement
People Management
Client Relations

Day Three

Residential Services
Homeowner Association Services
PCAs/ESAs

Day Eight


Securing Work: proposals, agreements, setting fees
Business Management: hiring, scheduling, advertising

Day Four

Commercial Services
Commercial Products
Client Relations
Group Inspection
Group Report Preparation

Day Nine


Goal Setting
Creating an Action Plan
Market Research

Day Five

Day Ten


Preparing Marketing Materials
Role Playing
Wrap Up